Team Nathan
In 2015, Nathan was born with Tetralogy of Fallot – a form of congenital heart disease which results in 4 defects of the heart – and a Cleft Palate.
After a marathon fight for life facing countless setbacks and complications, Nathan is now 3 years old. While hospital still plays a big part of his life, he continues to overcome every hurdle thrown at him and always bounces back with his big smile on his face.
We'll never forget walking into the children's hospital for the first time. Coming into the hospital changed everything for us, so we knew we wanted to do something for Glasgow Children's Hospital Charity
Inspired by Nathan's courage and the care they have received as a family, Nathan's parents Lesley and David have became a fundraising force to be reckoned with, raising tens of thousands of pounds for the Charity as Team Nathan.
Nathan's family initially started fundraising for our Little Hearts Appeal to fund the UK's first 4D Cardiac Scanner. This state-of-the-art equipment will help Nathan throughout his cardiac journey, by providing the medical team with the most detailed images of his heart for successful treatment.
Nathan needed complex open heart surgery - which lasted an agonising 15 hours - when he was just 3 months old to repair his heart.
Little Nathan went on to spend over 8 weeks in ICU with some of this time spent on a heart and lung bypass machine. While this was a frightening and stressful time, our Readathon volunteers were able to provide a welcomed distraction to the whole family.
"Nathan loves being read stories. One of the volunteers let us pick a book for him and we read him the story every day – he loves it! It's about a dinosaur because his big sister Freya loves dinosaurs. She likes to read it to him herself, it's really special to see".
Nathan also enjoyed visits from Mickey Mouse and the Scottish Women's Football Team organised by Glasgow Children's Hospital Charity. While Nathan was excited about seeing the world's most famous mouse, the visits were a huge morale boost for his parents too.
As days turned into weeks, which turned into months at the children's hospital, Nathan's parents, Lesley and David, started to notice the mounting costs of having a child in hospital.
They were referred to the Family Support and Information Service funded by Glasgow Children's Hospital Charity where they were guided through their application for Disability Living Allowance.
"The Family Support team made it all so quick, easy and took away the stress from the daunting forms. We're so glad we were referred and applied for support. It's a huge weight off our shoulders."
When Nathan was well enough to return to the Cardiology Ward, his parents were thankful that they would now be able to stay by his side thanks to the Pull-Down Bed funded by Glasgow Children's Hospital Charity in his room.
I couldn't wait for Nathan to be transferred to the ward so that I could stay with him. The Pull-Down Beds are amazing - they're really comfortable. You get to sleep next to your baby, so they're ideal. I think it's actually helped with the transition to getting home by giving us more time to learn how to care for him 24/7.
Lesley
As Nathan built up his strength, the Play Room on his ward funded by Glasgow Children's Hospital Charity became a place for him to play with his big sister who had missed out on precious time with her new baby brother.
At 3 years old, Nathan became very unwell again and required further surgery on his heart but thanks to our MoVE project, he made a strong recovery in our Paediatric Intensive Care Unit.
Before long, Nathan was laughing and giggling away on the cardiology ward during a special visit we organised from Rangers FC!
With your help, we can be support children and their families throughout their hospital stay
Donate Today
What £5 a month can do…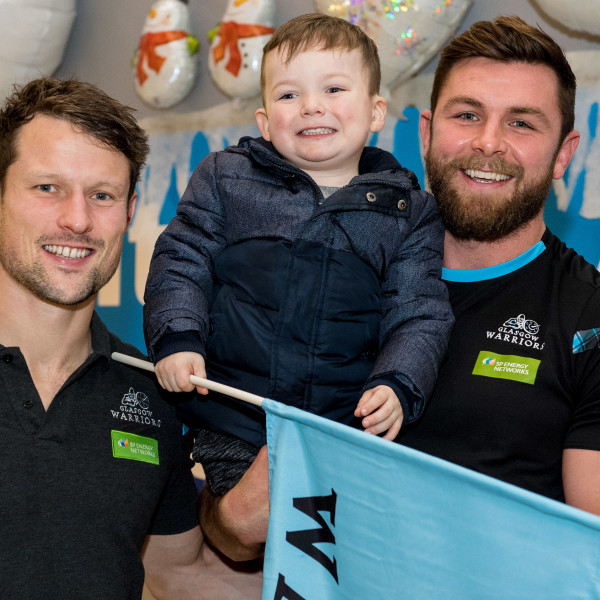 With your help, we can be there for families when they need it most
Nathan is one of thousands of patients who has benefitted from our funded projects
Donate Today