Love at First Sight
Scotland's tiniest babies now have access to sight-saving imaging equipment thanks to our generous supporters, the Morrisons Foundation and the Wooden Spoon Foundation.
Our new state-of-the-art imaging equipment will enable teams across Glasgow's neonatal units to screen for and detect retinopathy of prematurity (ROP) – abnormal blood vessel growth in the retina – in babies.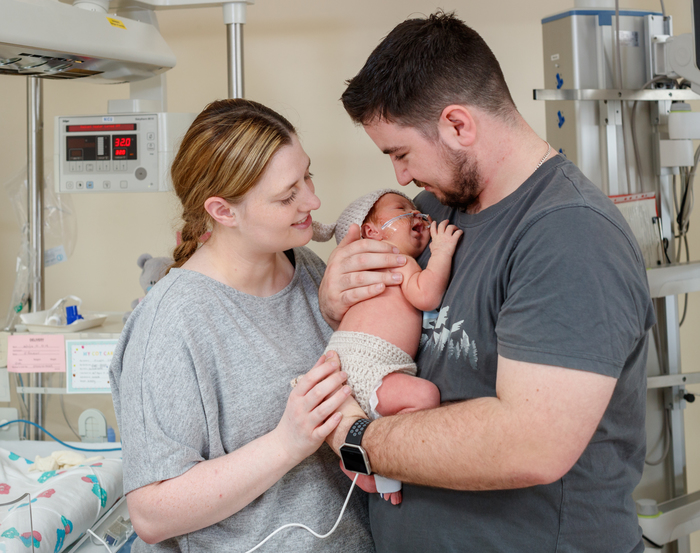 In the most serious cases, this condition can cause retinal detachment which can lead to complete loss of sight.
However if detected in time, there is an excellent chance that a baby's sight can be saved with interventions, which must be performed within 24-48 hours of diagnosis.
"A picture is worth a thousand words, and we need to be able to take photos of tiny babies' eyes to see if there are any problems. Before we worked on diagnosis based on written reports following a visit by an ophthalmologist, but we can more accurately diagnose the condition from a photo."

Pedro Gonzalez, Consultant Ophthalmologist

This state-of-the-art imaging equipment will not only help to save the sight of premature babies, but it will prevent the need for manual screening - an intrusive and at times distressing procedure for babies and their families.
When we were told that Lois had developed ROP, we were utterly terrified she would lose her sight, as it's a leading cause of childhood blindness. The screening process was very invasive and so incredibly difficult to watch your child go through it on a regular basis, so we are delighted to hear this equipment is now available.
Seonaid, Mum