Stateside Support for Glasgow Kids with Cancer
16 August 2022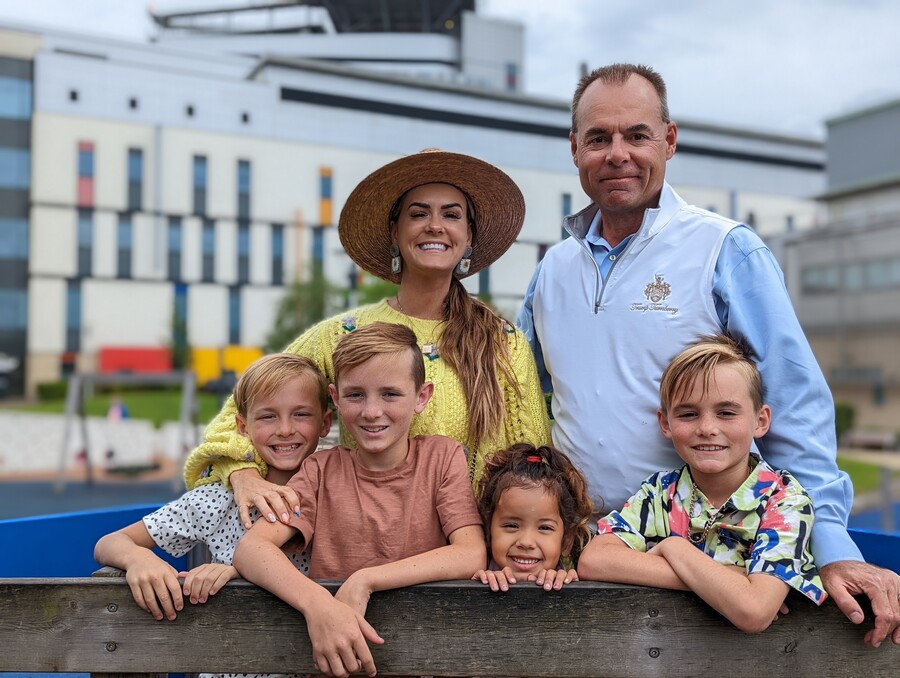 Five years after helping to launch an appeal to help children in Scotland with cancer, the Wiggins family returned to the children's hospital in Glasgow this summer.
Melissa Wiggins and her son Cannon, who live in Florida, supported the launch of the Schiehallion Appeal, run by Glasgow Children's Hospital Charity. The appeal went on to raise more than £1 million, including a generous £50,000 from the family's charity – Cannonball Kids' cancer Foundation.
The family were inspired to get involved after Cannon overcame stage four neuroblastoma, an aggressive form of cancer.
The Wiggins' commitment to supporting children in Scotland did not end there; the generous family have pledged a further £50,000 via the Foundation to support a clinical nurse specialist for neuro-oncology. This post will support children accessing clinical trials, continuing the impact and legacy of the Schiehallion Appeal.
Melissa, who is originally from Ayrshire, said:
"Life is full of lots of hard decisions, but supporting this charity is not one of those. It's very easy to support people who are doing good for other people.
"When I left Scotland, it was very important for me to still support local causes, and Scotland will always be where my heart is. The Board at Cannonball Kids' cancer was unanimous in supporting the hospital and everything they were doing, and we still feel the same way today.

"We're just so proud of all the hard work you're doing, but the hard work is not over. It's so important to raise more money for children who are battling illness, going through hard times and to support their families at the same time."
Cannon, a devoted big brother to his twin brothers and little sister, has been enjoying his time in Scotland. Between visiting friends and family, he has been sampling Scotland's best milkshakes and jelly pieces – the standard is comparable, he says with sincerity, to their US equivalents. Now 11 years old, Cannon will start the equivalent of primary seven this summer, and continues to receive treatment.
"We weren't promised any extra days with Cannon. So every day feels like a special extra day with him. We feel an abundance of gratitude, where every day really does feel like Christmas because we get an extra day with Cannon, after being told there was a good chance he wouldn't make it.
"Cannonball Kids' cancer has now awarded more than $3.5 million of research funding around the world, including in Scotland, Switzerland, Canada and the United States. It's really exciting to think about the number of kids who will benefit from these clinical trials and research studies."