Olivia's Journey
13 July 2022
Every so often, Olivia's mum Dean would travel with her beloved daughter in a familiar plane journey from Stornoway to Glasgow Airport.
Olivia, who was born with a chromosomal disorder, would be flown to the Royal Hospital for Children for routine check-ups, but also for chest infections and other such issues.
"Shortly after birth," Dean began, "she was flown to the Princess Royal Maternity Hospital. From day one, she had health and developmental issues. We were back and forth many times over the years from very early on, to Yorkhill and then to the Royal Hospital for Children."
Sadly, in January of this year, Olivia passed away.
"Around her seventh birthday, she developed a complex form of Epilepsy. We were unable to really control it but even though it was during a lockdown, the neurology team were amazing.
"From then onwards, her general health gradually deteriorated. She sadly passed away at home in January of this year."
The family pulled together with Olivia's younger sister Beth and older siblings Kenneth, Kirsty and Emma, who supported Mum and Dad, John, the best they could.
They weren't alone. The close-knit and supportive Hebridean community of Lewis and Harris rallied for 'Olivia's Journey' – a 20-mile walk to celebrate her life in aid of Glasgow Children's Hospital Charity.
"When we were approached about the fundraising, we thought of Glasgow Children's Hospital Charity straight away. Every effort was made to make the hospital experience as good as it could have been.
"On her fourth birthday, she had a chest infection and was in one of the wards. You think of being in hospital for your birthday as rubbish, but it was one of the most memorable birthdays she had.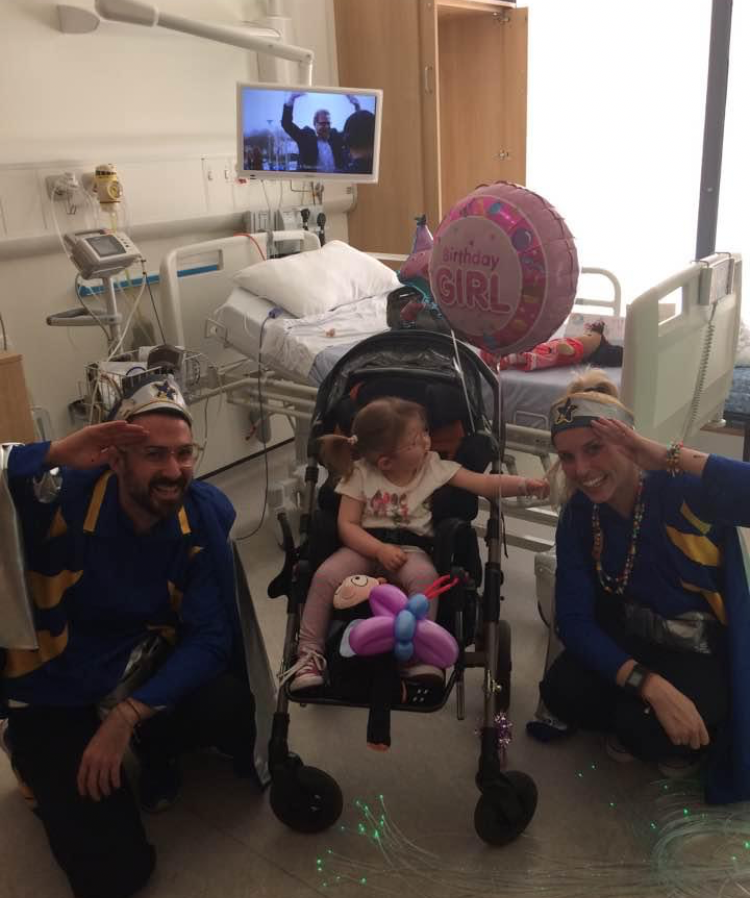 "The Charity and the staff made such an effort with balloons, banners, and a visit from the Clown Doctors. We have such happy memories of that day.

Dean on Olivia's special birthday
"The Play Staff as well were great, and the Charity has always been there for support so we're thankful for that.
"She had access to Charity-funded sensory equipment with fibre-optic lights and other things. That was brilliant for Olivia.
"The staff would also come round with toys and things like that. When you fly from where we're located, you are in a bit of a hurry. You can't take an awful load of toys and things that would have kept Olivia occupied."
On the day of the fundraising event, over 100 walkers set off from Olivia's first school, Sgoil an Rubha, before passing Stornoway Primary and Sgoil nan Loch.

Over £12,000 has been raised in Olivia's memory.
"The schools were absolutely brilliant. That's the thing with Olivia's Journey, she has attended three schools and the walk started off at her preschool.
"We have a great community here and you can see that in the amount that has been raised. Even if you take that away - it's such a caring and supportive community.
"The headteacher, Patricia, approached me early on about it and at that point I really couldn't think about it. It turned out to be a great day.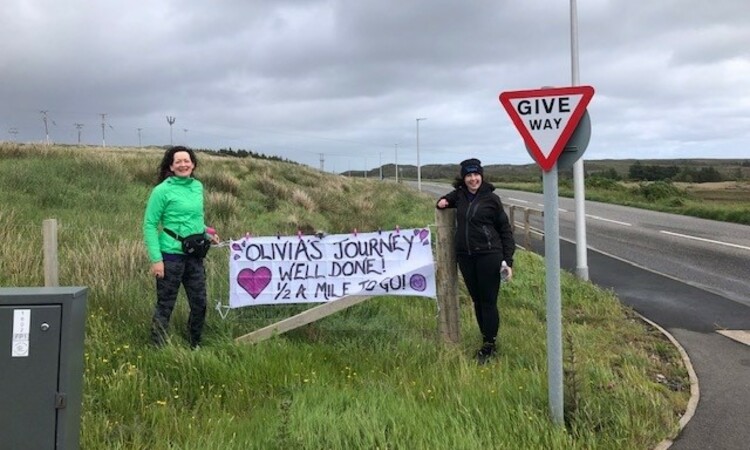 "It was a great atmosphere and it benefitted everyone to get together for this event, which turned out to be a great success.
"Some people did the first leg of around seven miles, ending at Stornoway Primary, and a good number continued for the whole 20 miles.
"The loss of a child in a community like this is felt by everybody — I've had cards from people I don't know personally. People are so caring.

Dean on the caring stornoway community
"She was such a sweet wee girl, with a great sense of humour. She was at her happiest when surrounded by her siblings or her school friends, she really loved school. Olivia is sadly missed by all who knew her."
We are proud to support families from across the country who have sadly faced the unimaginable pain of losing a child.