The Power of Play - Supporting Riley's Recovery
31 May 2021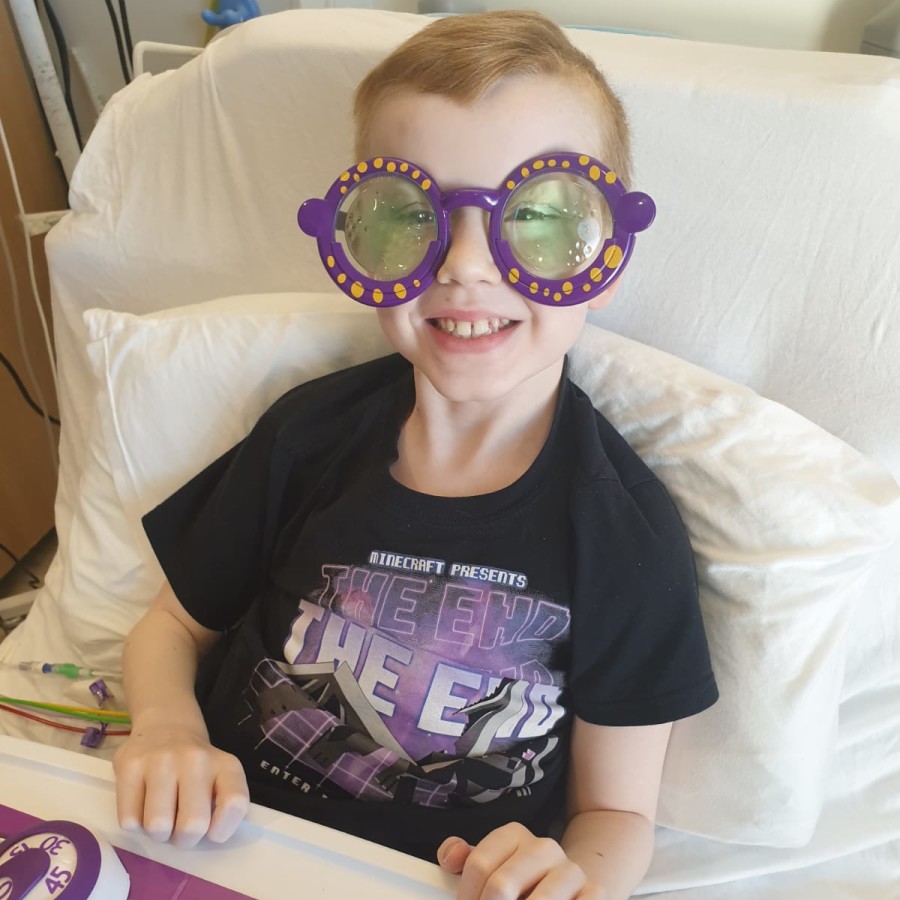 9-year-old Riley has been in hospital for five months. In that time, he has been through eight operations and spent a month in intensive care. Your generous support for our charity-funded projects has helped Riley and his family throughout their journey.
Riley's Journey
Despite all Riley has been through, this inspirational boy has been taking part in our Lap the Map virtual fundraising challenge with his parents, Louise and David. Together they have been clocking up the miles by doing laps of the ward and surrounding grounds when Riley has been well enough to do so.
Mum, Louise tells us more about their hospital journey so far:
"Riley has Cystinosis – a rare disease involving an abnormal accumulation of the amino acid, cystine (a building block of proteins) within cells. It can affect kidney function, the eyes and other parts of the body."
"Up until December last year, Riley had never been admitted to hospital for his condition. He has always been good at managing his condition at home by staying hydrated, taking eye drops and other medications."
"Sadly, things started to change for Riley before Christmas. He was admitted for the first time with bad gastroenteritis. Although he was very uncomfortable, we felt reassured when he was allowed home after successful IV treatment. Little did we know, this was just the beginning of our journey at the RHC."
"In January, things became much worse and Riley was admitted for what felt like every test in the hospital, including a CT, MRI, and camera tests. It was tough seeing him go through so many investigations but he has been incredibly brave throughout and we are very proud of him."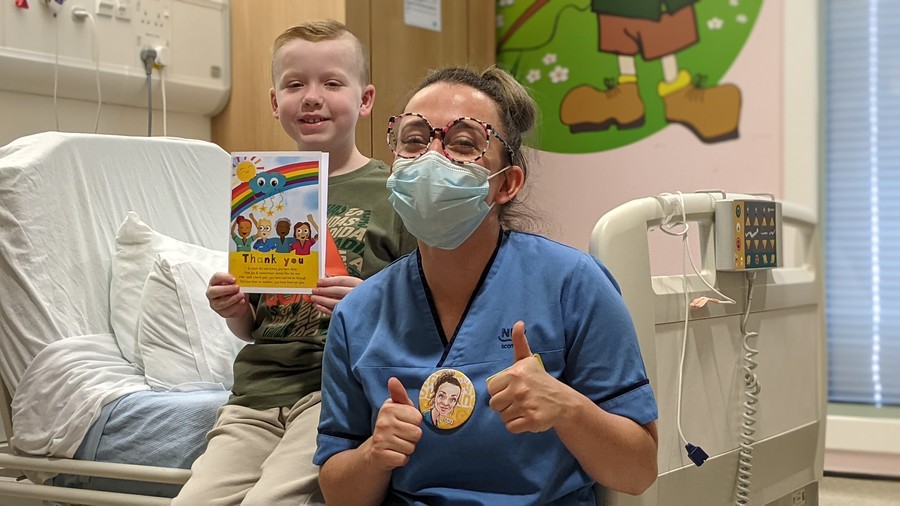 "Riley was becoming progressively more lethargic, not responding well to his meds and his tummy was incredibly painful. On 15th January, camera tests found a hole in his stomach and medics decided he needed emergency surgery to repair it."
"Every minute felt like an hour while we waited for Riley to come out of theatre. His surgeon, Mr Bradnock, had not expected the hole to be so bad.
Riley was in a critical condition and the surgeon told us it had become a case of "damage control" instead of a routine repair. We were both distraught but knew Riley was in the best possible hands. All we could do was wait."
Riley spent a further month recovering in the Paediatric Intensive Care Unit following his first surgery. Dad, David tells us how he felt seeing him for the first time:
"Nothing can prepare you for seeing your child in intensive care. There were just so many wires coming out of his wee body. I just could not believe that what had started as a suspected tummy bug had become so serious so fast."

david, riley's dad
"We lived minute by minute while Riley was in the PICU. It was almost as if it was happening to someone else. You can't believe that it's you that's going through this with your own child."
"Most of this time his abdomen was open to allow for easy access for his next surgeries. This in itself was a shock but the staff on the unit were so reassuring and the care was nothing short of outstanding."
Mum, Louise shares her thanks to those who have cared for Riley:
"I'll never be able to repay the heroes who have looked after my little boy. He has now had eight surgeries in the past five months."
"When Riley came out of the PICU, he was skin and bones and needed to learn all his basic motor skills again including how to walk, hold objects and move his muscles freely again. So many teams have been a part of his recovery and he is doing brilliantly well."

The Power of Play: Relieving Anxieties & Creating Normality
"Anyone who has had a child in hospital will know that the days feel very long and this can mean a lot of screen time. It has been fantastic to have the play programme available to Riley to spend time off screens."
"It has been brilliant to have someone here just for fun. Lauren in the Play Team has been truly amazing and Riley has formed a special bond with her. She has helped us to celebrate key holidays like Mother's Day and family birthdays – something that is so important to help bring a sense of normality to Riley's life during this strange time. He has played board games, done arts and crafts and so much more."
"We're grateful to the doctors and nurses who have taken time to play with Riley too. Play is powerful and it has helped Riley to build relationships with the people looking after him. The Play Programme really is such an important project to support."
The Power of Play: Aiding Recovery
Thanks to your generous donations, our charity-funded Play Programme helps to support young patients like Riley during their most difficult days in hospital.
Louise tells us about the difference it has made to Riley's recovery:
"Play for Riley hasn't just been about entertainment and distraction. Regular play activities that practise motor skills have helped Riley to recover more quickly.
"After his multiple surgeries and a long stay in PICU, Riley was finding it difficult to apply pressure with his fingers. Lauren from the Play Team played Lego regularly with Riley. This really helped him to build his confidence back up by doing something he loved."
"At first, he couldn't press the little brick down into the "grass" but after lots of practice and encouragement, he's able to build all sorts of brilliant lego designs again and his motor skills have greatly improved through play as a result."
Providing Reassurance in PICU: VCreate
For families of children in Intensive Care, every moment spent away from their side can feel like a lifetime. Thanks to funding from us, Riley's parents were able to feel connected with their son through a secure video messaging platform.
Through this service, Doctors and Nurses can safely send little video updates of patients in PICU and NICU to help provide reassurance to families.
Dad, David said:
"Vcreate was a huge support to us when we couldn't be by Riley's side. It really helped to put our minds at rest, knowing that the medical teams were working with immense compassion and dedication to care so well for him."

Riley's Lap the Map Fundraising Challenge
"We have loved taking part in the charity's Lap the Map fundraising challenge and Riley has been a wee star. It is incredible to see how generous everyone has been on our page – it means an awful lot to us and we know the fundraising will help to make big difference to other families in hospital."
"When you are spending so much time in hospital, it is easy to reach for the snacks…Lap the Map has been a great way for us to give something back to everyone who has been part of our journey and has helped us stay active too."
"We couldn't be prouder of Riley for all he has overcome and we're hopeful that we will get to go home soon to enjoy proper family time together."