Art with Heart: Charity Auction raises over £80,000
23 November 2022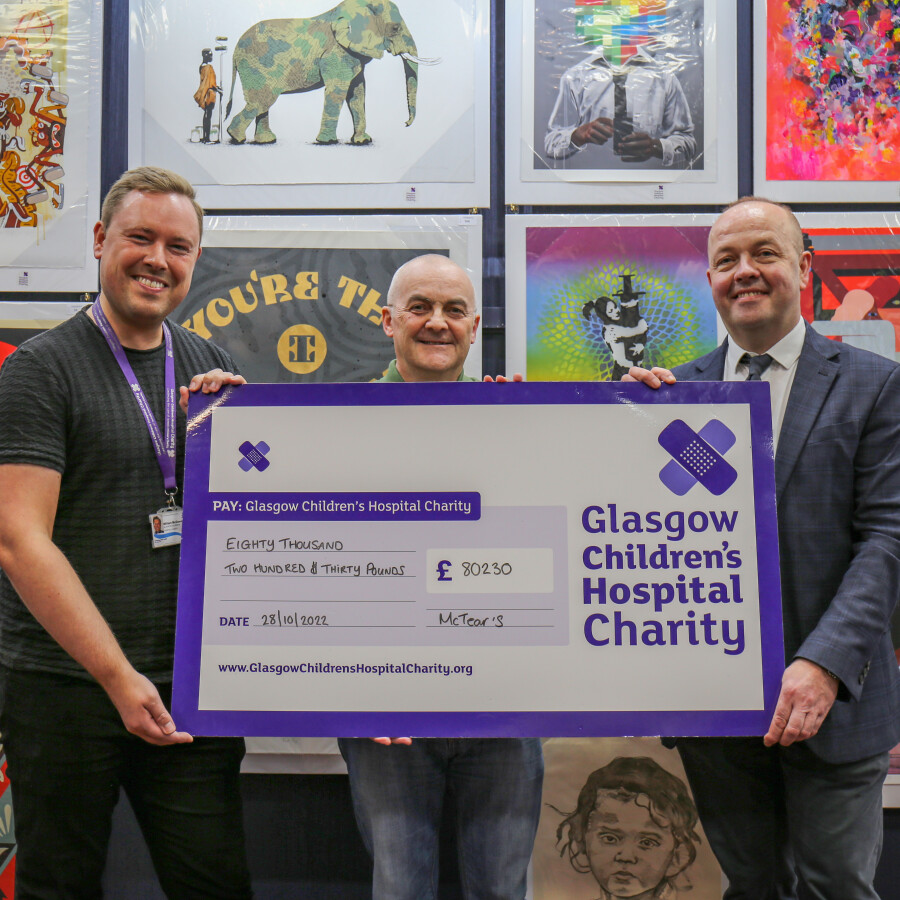 A recent art auction has raised a phenomenal £80,230 for Glasgow Children's Hospital Charity.
Charity supporter and art enthusiast, Steve McGill, organised the auction after being inspired by the work of Glasgow Children's Hospital Charity.
Steve organised his first charity art auction for us back in 2020 and was keen to expand on the success of the inaugural event.
"The vitally important work carried out by the charity has touched the lives of so many over the years, and this was quite evident in the huge response we had when we put out a call for works to feature in the auction. Simply put, the support that has been offered by artists across the globe has been quite overwhelming."

Steve McGill, auction Organiser
Steve curated 155 acclaimed urban, street and contemporary artists from across the globe to support Glasgow Children's Hospital Charity.
McTear's Auctioneers in Glasgow hosted the auction free of charge, waiving all fees to ensure that all proceeds from the sale of the art came directly to the charity.
"Following the success of our initial auction in support of the charity, we knew that there was definitely an appetite for a bigger, dedicated sale. It is an incredible achievement to bring together so many leading artists and the auction has raised a significant amount towards the vitally important work carried out by the Glasgow Children's Hospital Charity."

Brian Clements, Managing Director at McTear's Auctioneers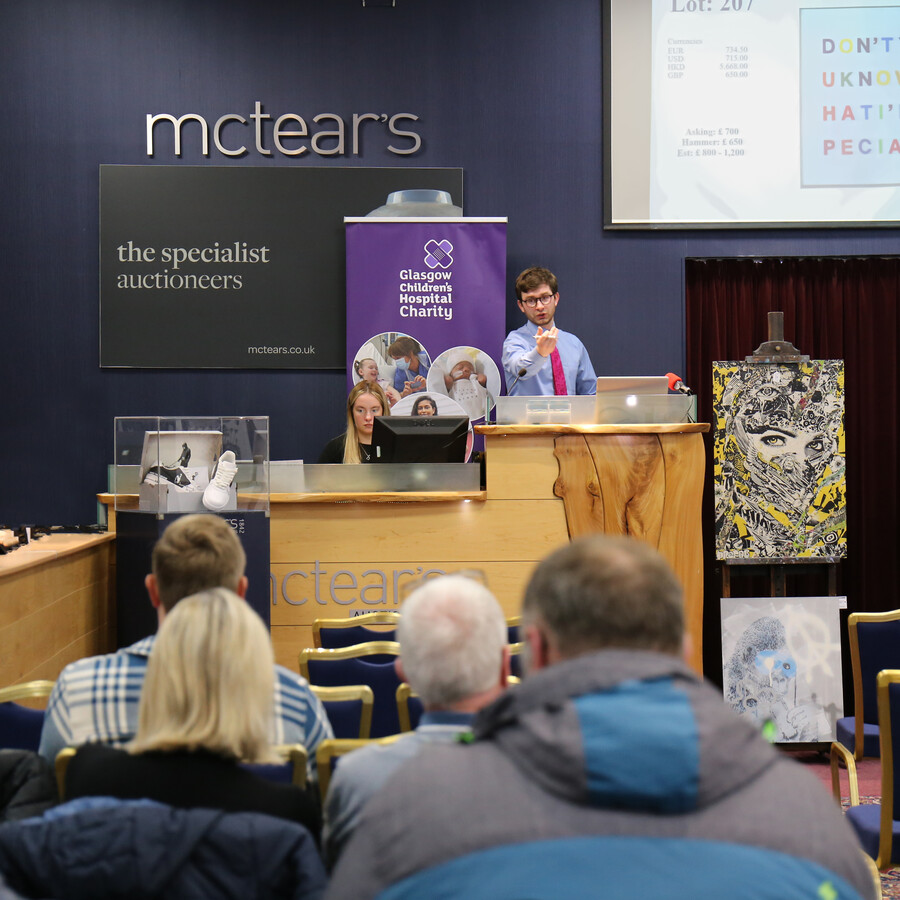 Over 200 original works and limited edition prints by artistic luminaries including Bridgit Riley, Adam Handler, Mr Doodle, Sickboy, Prefab 77, James Klinge, Banksy,Shepard Fairey, Faile, Hijack, K-Guy and many more went under the hammer in the McTear's auction 'Your Hand in Theirs' on Friday 28th October.
James Klinge's reputation stretches across the globe, with recent commissions in the Netherlands and a solo exhibition in Portugal cementing the Glasgow artist's position as a leading light in the urban art community.
When James was approached by auction organiser and charity supporter, Steve McGill, he was only too pleased to help out.
"My wife is a paediatrician and one of my children was a patient at Glasgow's Royal Hospital for Children a few years ago, so I have first hand experience of the incredible work the team does. The care my son received and the support for parents was second to none. The hospital and Glasgow Children's Hospital Charity are very close to our hearts and I was more than happy to support the auction."

James Klinge, Participating Artist
Other notable works in the auction include the impressive 'Op-Art' screenprint 'Arcadia 7' by acclaimed artist, Bridget Riley; an original acrylic and spraypaint work 'Togetherness' by Bristol based street artist, Sick Boy, and a stunning screenprint by the acclaimed artist Mr Doodle.
The sale also included one of Banksy's much sought after 'Di Faced' ten pound notes.
"Together, Steve and McTear's have created a unique fundraising auction, and we cannot thank them enough for their generosity. Steve's vision has inspired so many artists from around the world to donate works, and we are grateful to each and every one of them for their support. Thanks to McTear's waiving vendor commission, buyers premium and internet surcharge, all proceeds from the sale come directly to the charity, helping to fund life-changing projects and equipment at Scotland's busiest children's hospital."

William McGowan, Head of Partnerships & Events at Glasgow Children's Hospital Charity
After the total was announced, Steve McGill took to Instagram to express his thanks: "I'm lost for words. To every artist, individual and gallery who donated something please know that today you did a good thing that will make an incredible difference."