Craig and Kevin take on the Great Scottish Run
13 September 2022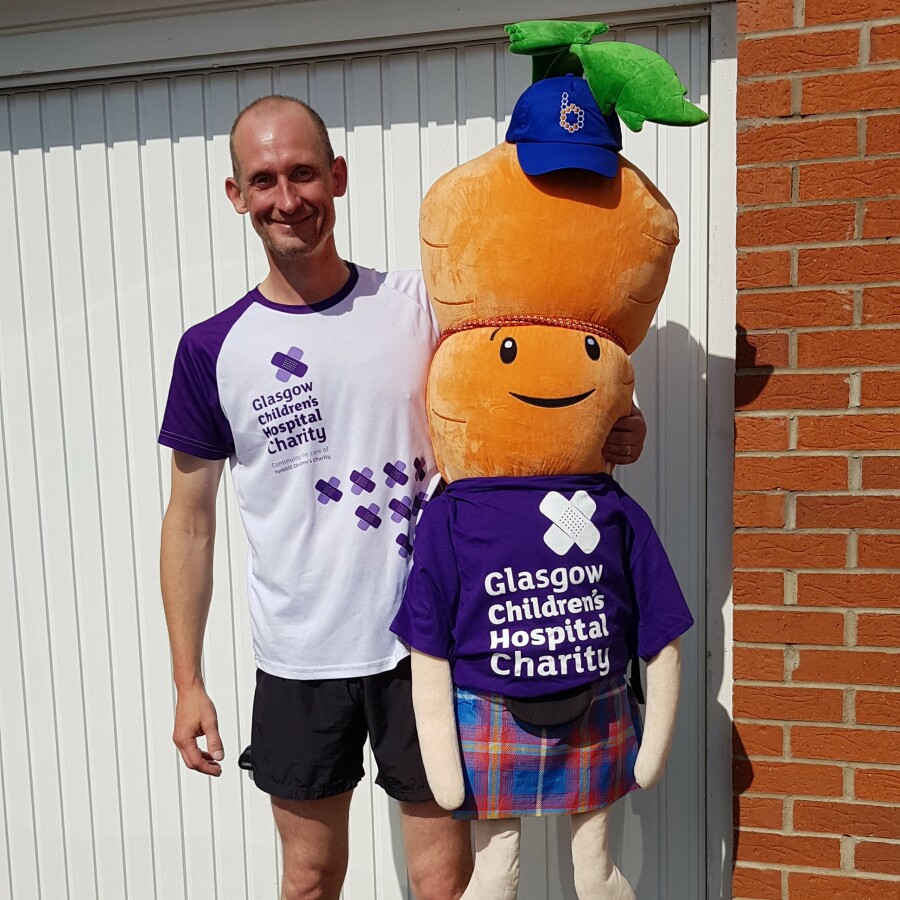 If you're attending the Great Scottish Run in October, look out for a bright orange vegetable bobbing around among the thousands of runners.
Kevin the Carrot – yes, the plucky plant of Aldi fame – is taking on the country's biggest running event alongside Craig Russell.
Craig is a seasoned fundraiser of ours and it's been hard to miss the duo at previous events such as the London Landmark Marathon.
This autumn, Craig will run the 10k in memory of his son, Gavin, who was treated for a rare form of bone cancer in September last year, having been first diagnosed in 2014.
We're so grateful to have Craig's support at the Great Scottish Run this year. Here is his family's story, in his own words.
Why run with Kevin the Carrot?
My wee niece was doing a Kiltwalk and she won a raffle prize. This five-foot-tall thing turned up!
That's the story behind it, that's how he appeared. It was bone cancer that Gavin had, and the colours of the other charity we've supported are blue and orange, so it all matched up.
It's tough enough to run long distances without hauling around Kevin the Carrot! I've got him hooked onto a backpack to make it easier. To be fair, it's good for when it's busy or when you want to be noticed.
I got called out in London: "Here come the boys with the carrot!"
They know who it's for because Kevin has the t-shirt on, and we've got our purple t-shirts for the Great Scottish Run. It was just for a wee gimmick and to get noticed more than anything else, and it does the job.
Gavin's story
It was late 2014 when Gavin was diagnosed as a 13-year-old. It was still Yorkhill back then, and because the hospital move was on, the first thing we did for charity was the abseil down Yorkhill with some of the nurses.
When your wee one is in hospital, you let the medical staff do what they can and then you can do these other things, like fundraising, when you've got the time and the strength.
What got us through our hardest days was Gavin's determination. He wasn't going to let it beat him.
The nurses within Schiehallion and surgical, ward 3a, were there to lift everybody up. It was definitely Gavin's determination and the kind nature of the staff that kept us going.
After his initial diagnosis, chemotherapy and radiotherapy, he did have a year and a bit of remission before it came back. There were good times, and you knew he had it in him to hit back.
Then last year we were told things had changed and we knew our time was getting shorter. There's a bit of pride from Gavin, his wee brother and the family for what we're doing. It was helping him out, too. It's just doing a bit of good in his name because people have helped us out so we want to give back what we can.
There will be other kids in that situation, and you want to support them and their families.
Charity support
The support and guidance given by Glasgow Children's Hospital Charity was amazing. The Fundraising Hub in the hospital was really good - they were always signposting you to others that could help.
The activities – such as The MediCinema – were all really appreciated too. You're trying to make life normal in circumstances that are anything but normal so experiences like these are crucial for families in hospital.
It felt like an arm around our shoulders. The charity had our backs.
Excitement for the Great Scottish Run
It'll be great to go through the middle of Glasgow. The streets will be lined, the atmosphere will be buzzing and there will be loads of folk representing loads of charities.
It's a great chance for us all to get out and get noticed. It's Glasgow, you know the people will be up for it!