Memory Making with Grace
12 October 2021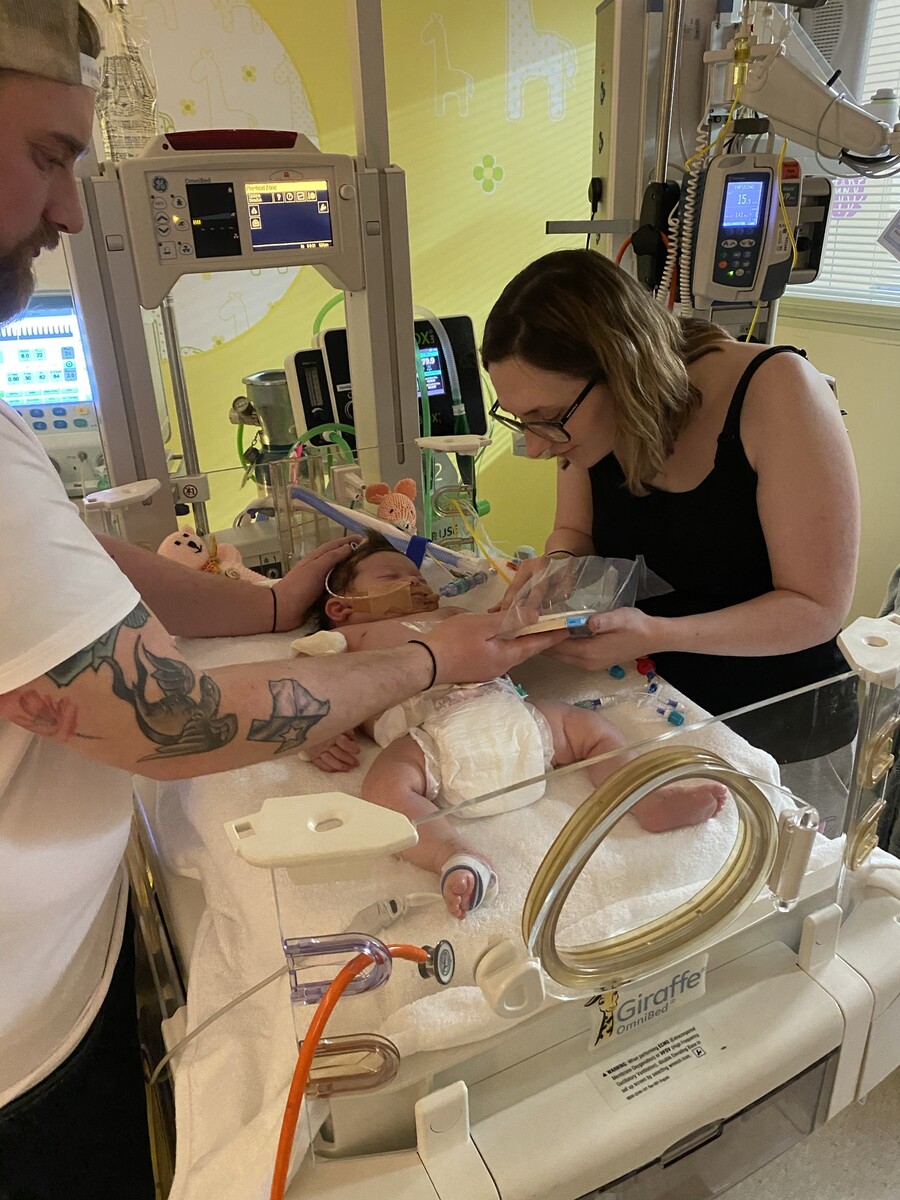 When the unimaginable happens and a child passes away, memory-making can become a very treasured part of their family's journey.
Glasgow Children's Hospital Charity is proud to support families through their darkest days by funding precious keepsakes, and the chance to make special memories with their littles ones during their final moments.
Andrew and Kelly very sadly lost their baby girl Grace shortly after she was born. Determined to pave a path of hope for families just like theirs, they have gone on to raise over £11,000 to support our Neonatal Unit and Memory Making activities. They tell their story:
"When baby Grace was born, she was perfect in every way. Our beautiful baby girl, with 10 fingers and 10 toes, a button nose, dark hair and blue eyes. Grace had very little time on this earth but we cherish the time we had with her. We miss her so much.
"We chose to support GCHC as during our time at the hospital, it was clear how much everyone cared for not only Grace, but for us as a family.
"The minute we arrived in Glasgow lots of our worries lessened slightly. It was evident that Grace was a very poorly little girl but the medical teams did their utmost to make her comfortable, safe, and loved - willing her on alongside us to get better.
"Following Grace's brain scan, we knew that she would eventually be removed from her life support. This news devastated my partner and I, but the nurses and consultants were with us every step of the way.
"We didn't think this would be possible due to Covid, but we were asked if we had family who'd like to meet Grace. It meant the world to us to be able to have Grace meet her Grandparents, Aunt and Uncle.
"I remember the nurses allowing me to finally have a cuddle with my beautiful girl. When we walked in I was in awe. The nurses had put fairy lights all over the room, they gave us chairs with blankets and cushions, and allowed us to feel like we were in our own little world. This meant more to me than so much of the time we had already had with Grace, as it felt personal and private.
"We created lots of memories with Grace during her final days, everything from watching films, reading books, listening and dancing to music, to bathing and clothing her for bed. Most of the day consisted of lots of cuddles and kisses.

We were given canvases to paint and write on, and painted Grace's hands and feet. We made Christmas decorations and took lots and lots of pictures. In reality there will never be enough."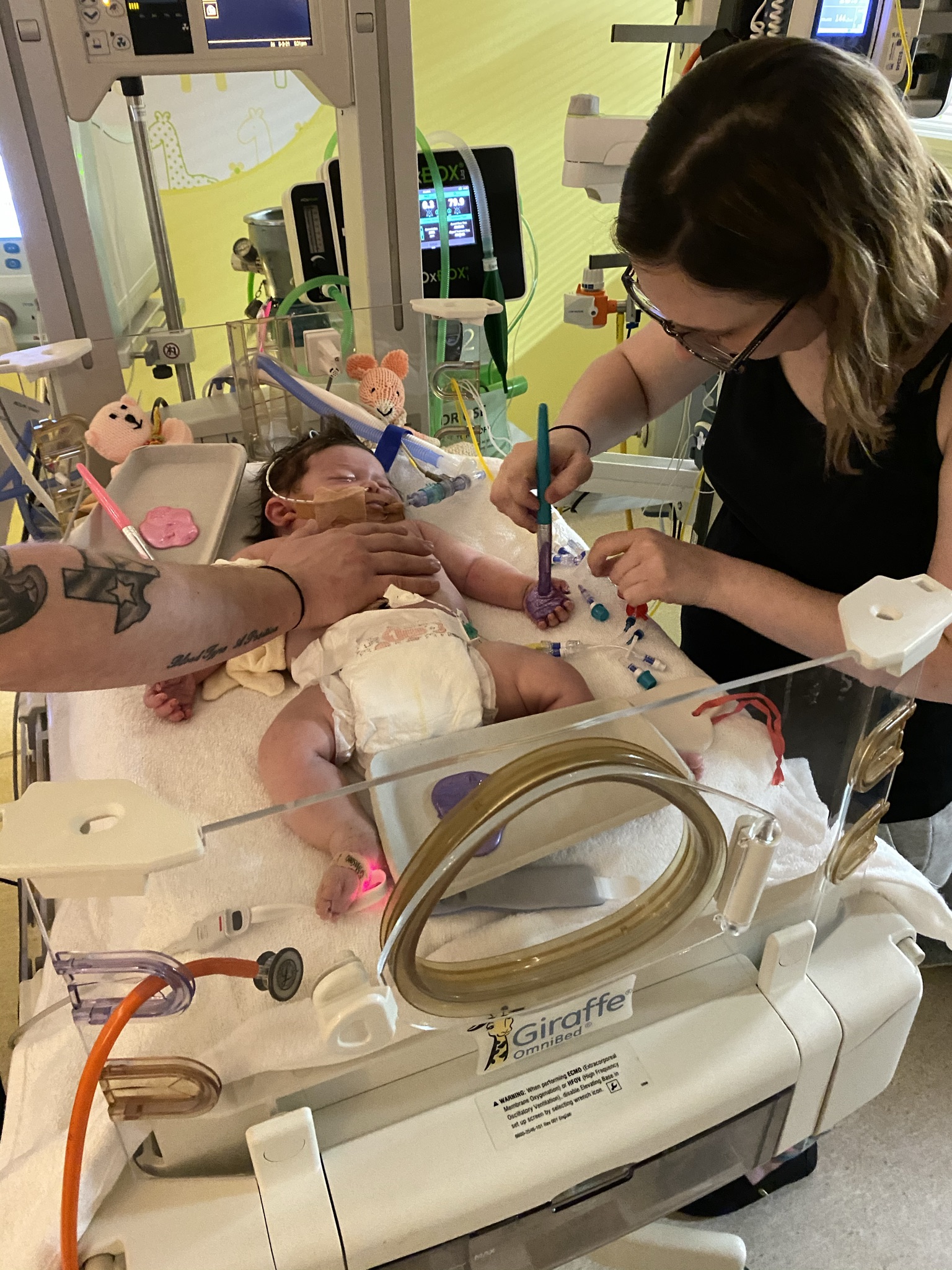 "The Nurse Laura who was with us when Grace passed also made us 3D casts of her hands and feet which has been lovely for us to look over and hold. The time we got to spend with Grace and the special memories we made meant the world to me. It helps us look back on our time in hospital with full hearts instead of sadness.
"No parent wants to be making memories of a child they know will die, but as time has went on, the prints we made have now been shared with close family, we have put some items in her room, and they can be shared with any future children we are blessed to have.
"As a bereaved parent I completely understand why, for some, making these items and creating these memories are painful to even consider, but talking from experience, this allowed me to feel in control of my time with Grace. I chose what we did, how we did it and the pace we went at. For me it allowed for a different set of memories away from the beeping machines, and allowed us to just be spend the most special time together as a family."
To support projects like memory making, you can make a one-off or monthly donation today to be there for families like Grace's. Thank you.