Lap The Map: Go Team Glasgow!
3 July 2020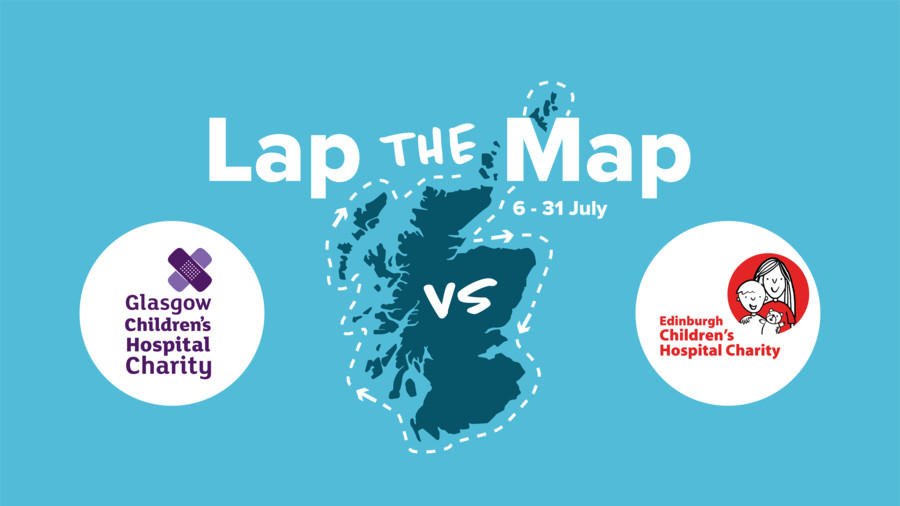 Good luck to Team Glasgow for Lap the Map!
Everyone at Glasgow Children's Hospital Charity, our young patients and their families would like to wish all of our Team Glasgow Lap the Map participants an extra special good luck for their upcoming challenge.
While the challenge will help to settle the age old question of which city is best - Glasgow or Edinburgh - Lap the Map is all about fundraising as much as possible for those young patients and hospital heroes who need us most.
Glasgow Children's Hospital Charity is relying entirely on your fundraising and donations to ensure that we can continue being there beyond Covid-19. Every pound raised will help to fund our:
Innovative Hospital Play Programme - providing fun, laughter and entertainment, to children and young people of all ages, to help them through their hospital admission.
Vital Family & Financial Support Services - giving families the practical, emotional and financial support they need, when their child is seriously ill in hospital
Bereavement Support Services - when the unimaginable happens, making sure that bereaved families have the support they need to navigate through their darkest days
Watch this short video to learn about the difference Glasgow Children's Hospital Charity has been making during the Covid-19 crisis. Only with your support can we continue doing so much more for children from across Scotland, their families, and the heroes who are dedicated to caring for them.
Remember, every pound really does count, and will help to ensure that our life-changing hospital projects and services can continue to support young patients through their hospital journey.
Thank you for your tremendous support, and good luck for Lap the Map. Come on Team Glasgow!
Get In Touch
Got a question about fundraising for Lap the Map?