Join Our Team of Walking Heroes
Throw a tartan twist on your sponsored walk this year, by signing up for the brand new Virtual Kiltwalk!
We are incredibly grateful for your tremendous Sponsored Walk efforts in the past, and while our Walk will not take place next month, we hope that you can still join our team of walking heroes for the Virtual Kiltwalk.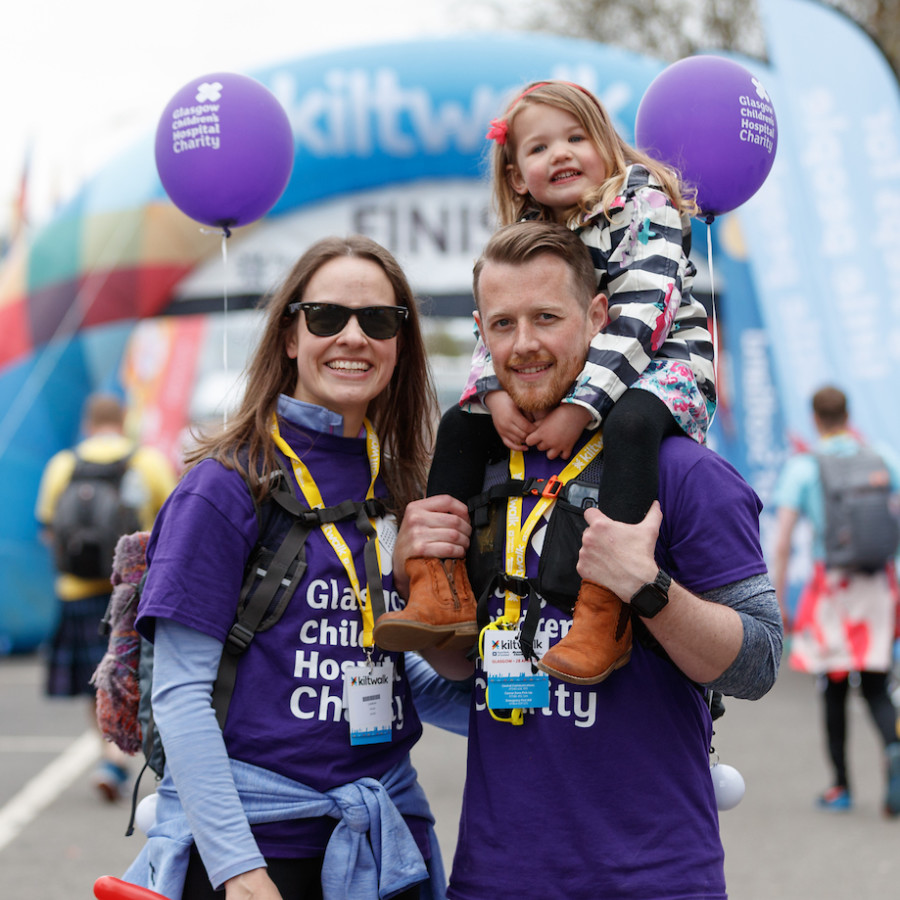 This year in place of our own Sponsored Walk, we're asking incredbile supporters like you to sign-up with us for the Virtual Kiltwalk weekend. Why?
While the world has slowed down, every day hundreds of babies and children continue needing life-saving and specialist care at Glasgow's Royal Hospital for Children and Neonatal Units. To ensure that we can give them the extra special care they deserve, we must raise vital funds together with you, our caring community of supporters.
It is a fantastic alternative to our own Sponsored Walk - did you know that you can choose ANY distance you like as your challenge? You can walk 3k, 5k, 10k or 50k - complete your walk, your way!
Your Virtual Kiltwalk fundraising total will be topped up by 50% by The Hunter Foundation, meaning your walk will make an even greater impact to our young patients, their families and hospital heroes. If you raise £100, your total will be topped up to £150 at no extra cost to you - how fantastic is that?!
As the global pandemic continues to put a strain on fundraising activity, it is more important than ever for our team of amazing walkers to lace up their trainers and hit the streets to fundraise. Can we count you in?
FAQs
Do I need to walk the same distance as a Kiltwalk?
No - you do not have to walk the distance of a Kiltwalk. The Virtual Event has been created to allow everyone to choose their own target distance, while raising 150% for their chosen charity. So whether you want to walk 3k with your little ones, or challenge yourself to a 10k (or more), you can complete your walk, your way.
Is there a certain route I need to follow?
There is no set route for this virtual challenge. Simply choose the distance you'd like to cover, and decide where you'd like to complete this safely within the government guidelines on social distancing.
How much is registration?
Adult registration is £12 (+ 80p service fee). Child registration is £6 (+50p service fee). Your registration fee includes a Virtual Kiltwalk pack with materials and ideas to make the most out of your challenge, and will entitle you to your very own Kiltwalk medal to add to your medal collection too!
Do I need to wear a Kilt when I do my walk?
You can dress up as much or as little as you like for your walking challenge! Throw on some tartan if you have any handy, or why not plaster yourself purple for our young patients?! We'll provide you with a charity t-shirt if you don't have one already, so you'll already be looking the part in our eyes!
How will my fundraising be topped up by 50%?
You need to register with the Kiltwalk where you will be directed to set up an Everydayhero fundraising page. It is essential that you do all of your online fundraising via your Everydayhero page, so that the Kiltwalk can apply your 50% top up. This top-up cannot be granted via Justgiving.
Who do I contact if I have a question about taking part?
Our team would love to hear from you! Please call us on 0141 212 8750 or email info@glasgowchildrenshospitalcharity.org