COVID-19 Appeal Update
18 August 2020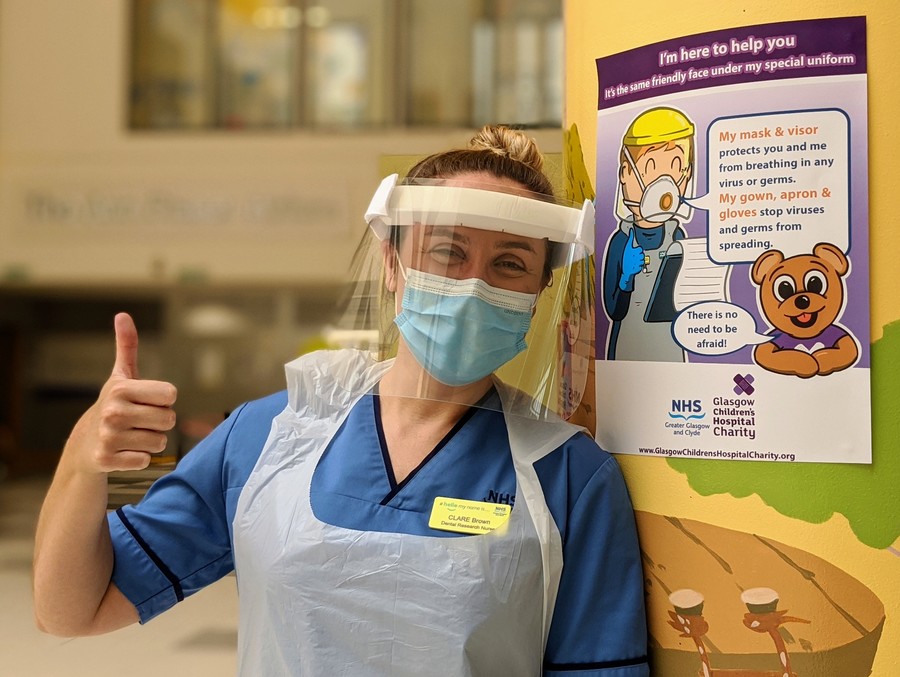 Thanks to your support, our impact has been felt more than ever by those who rely on us most.
The generosity of our supporters has allowed us to continue funding life-changing projects to support the ever-changing demands and pressures of COVID-19 on young patients, their families and the heroes who care for them.
Here are just a few of the ways that donations and fundraising to our Emergency COVID-19 Appeal have made an impact at this challenging time:
Helping Patients Cope At Home


When your child has a complex, rare or long-term health condition, life confined at home during COVID-19 can be even more challenging.
Chloe has Mowat Wilson Syndrome (MWS) - a rare genetic condition shared with only 5 other children in Scotland. The condition means that Chloe has many medical complications and developmental delays, leading to many challenging hospital stays.
Having a child with such a rare condition can already be isolating, with this feeling being amplified even more during lockdown.
Chloe faced many challenges during lockdown related to her rare condition. Her developmental delays mean that there is a limited variety of activities that she can access.
"Things got very repetitive stuck in the house for so long. Chloe needs constant attention as she is unable to do things without one to one support.
She also needed a lot of stimulation to ensure her development - cognitively, physically and socially - didn't regress while being kept in such a small bubble for so long."

clare, chloe's mum
We were delighted to provide a grant to Chloe's family to fund a fully height adjustable 'Tuff Tray'. At almost 5 years old, Chloe is too tall to stand at toddler water and sand trays, but her Tuff Tray can now allow her to enjoy a whole variety of activities through the long days at home, while helping her progress her vital skills and development too.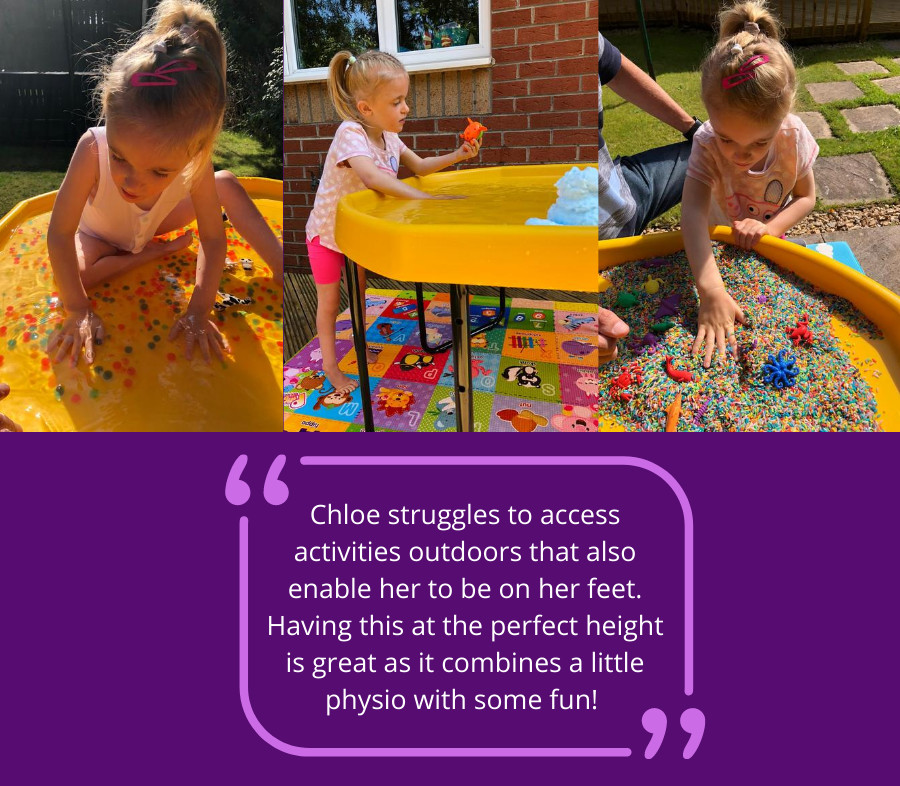 "As a parent, having access to equipment like this via the charity makes you see how much they care, and that they realise the struggles we face not only during lockdown, but all year round.
Sometimes accessing support can be difficult when your child has a condition that is so rare. People don't understand what it means for your child and your family, so to have the Glasgow Children's Hospital Charity grant makes a big difference."

Clare, chloe's mum
Through our COVID-19 Appeal, we have proudly funded over £5,800 worth of individual Grants, supporting 66 families like Chloe's whose well-being has been adversely affected by COVID-19.
Supporting Bereaved Families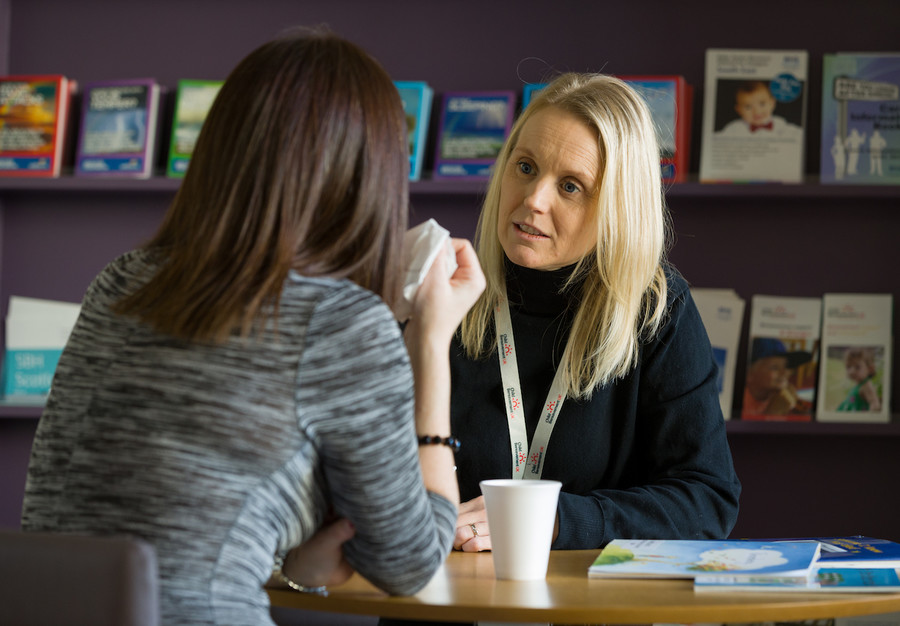 During the global pandemic we have seen an increased demand for 1:1 and group bereavement support at the hospital with COVID-19 undoubtedly adding an additional layer of anxiety to everyone's life.
The crisis has acted as a trigger point for many bereaved families and NHS staff members, resulting in an increasing pressure on Bereavement Support. During COVID-19 alone, our charity-funded Bereavement Service has seen:
A fourfold increase

versus the same period last year in the number of families and staff members who had finished support, returning for further intervention.
Heightened demand for its Parents and Carers support group meetings resulting in monthly meetings now taking place fortnightly
A 70% increase in the number of NHS staff being supported versus the same period last year
Our Bereavement Service in partnership with Child Bereavement UK and NHSGGC, can be a lifeline for families during their darkest days. It provides a safe and supportive environment for individuals to talk openly about their loss.
The service relies entirely on funding from Glasgow Children's Hospital Charity to exist. Thanks to generous donations to our COVID-19 Appeal, we have been able to commit £55,000 to ensure that this much-needed service can continue until March 2021.
Crucial COVID-19 Research


We are privileged to have supported the RAPID-19 trial - crucial research investigating the potential immunity to COVID-19 in children. The study, which is being carried out by the Glasgow Clinical Research Facility aims to find out whether children have developed immunity to the virus from potential exposure from their healthcare worker parents.
This is one of the few studies looking at children's immunity to coronavirus and is supported by NHS Greater Glasgow and Clyde, and Glasgow Children's Hospital Charity.
More than 220 'Covid Warriors' from across the West of Scotland aged between 2-16 years old attended the children's hospital to take part in the first stage of the trial, which involved blood tests and saliva tests.
"With children going back to school, this research is more important than ever. We are trying to find out if children of healthcare workers have developed positive antibodies to coronavirus.

We've been overwhelmed by the generosity from children, young people and their families. We've had phenomenal support from the Clinical Research Facility and Glasgow Children's Hospital Charity."

Dr Steve Foster, Consultant in Paediatric Emergency Medicine and Principal Investigator of the RAPID-19 clinical trial, NHS Greater Glasgow and Clyde
Volunteers from Glasgow Children's Hospital Charity gave their time to help look after the children involved during the study weekends, directing families to where they needed to go, and making everyone who took part feel extra special.
We proudly funded age-appropriate activity bags to distract and relax all the children involved during their tests, and certificates to celebrate their involvement in this important trial.
We're Relying On You
As the world begins to slowly adapt to the 'new normal', each day hundreds of children and babies will still arrive at Glasgow's Children's Hospital and Neonatal Units for specialist and lifesaving care.
We'd like to thank everyone who has supported our Urgent COVID-19 Appeal so generously, allowing us to be there for those who need us most during this pandemic.
As the crisis continues to put a strain on our fundraising income and life-changing hospital services, we hope that we can count on your continued support through COVID-19 and beyond. Thank you.